ANTI-KINK GROMMET — FUNCTION AND DESIGNATION
Anti-kink grommets made of elastomers are also referred to as cable kink protection, cable grommets, rubber grommets or cable bushings. Depending on the area of application, the rubber grommets are produced in different sizes, colours, designs and materials. In a wide variety of environments, anti-kink grommets are used to protect individual or combined lines or cables at exit or crossover points from kinking and thus to protect electrical systems or devices from malfunctions. They also create an optically appealing and secure connection between two sections. Rubber grommets can form a flexible and protective exit and crossover point due to their elongated shape. They are also often used when cables are to be neatly combined and continued in a cable sheath, e.g. at a housing outlet. Aside from its anti-kink function, the anti-kink grommet made of rubber ensures that dust, liquids and other contaminants are prevented from penetrating a housing.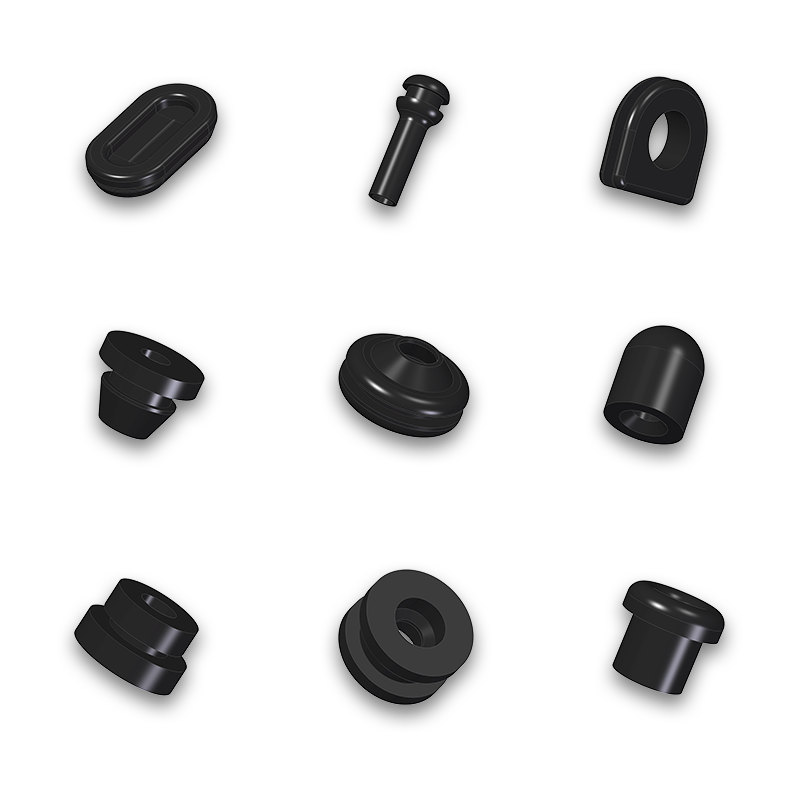 ---
Bushings, grommets and cover caps
FIELDS OF APPLICATION FOR RUBBER GROMMETS
Anti-kink grommets are typically used in household appliances and electrical tools such as drills, garden shears and sanding/sawing appliances. The flexible, yet sturdy rubber ensures long-term robustness of the cable kink protection and ensures both safety and protection in challenging fields of application, such as in forestry, horticulture and the construction industry. Bushings at housings, walls and cabinets represent a further field of application for anti-kink grommets. Here, the anti-kink grommet provides for a tidy finish and reliably protects both cable and leads from kinking.
The GUMMIVOGT anti-kink grommet is used in numerous industries. Wherever high tensile loads, pronounced atmospheric influences and other mechanical effects can be expected, the GUMMIVOGT anti-kink grommet is there to reliably protect electronic systems and power supplies from damage. In these fields of application, the anti-kink grommet ensures that electric equipment - even under high loads - remain protected and in working order. It is also an optically appealing element which combines admirably with the most diverse of technical appliances.
RELIABLE ANTI-KINK PROTECTION WITH PRODUCTS FROM GUMMIVOGT
Just as with all GUMMIVOGT products, the anti-kink grommets made of rubber are precision-constructed and of the highest quality. This provides for fail-safeness in those field of application where a damaged anti-kink grommet may result in temporary stoppage of production or even total loss of an electronic device caused, for instance, by penetrating liquid. In these kinds of environments as well, GUMMIVOGT anti-kink grommets ensure permanent and dependable protection - all the more so since dust, liquids and other influences can be effectively kept away from damageable cables and leads. GUMMIVOGT sets great store on monitoring all suppliers and in-house production for quality. This provides customers with long-term assuredness as regards installation and permits a wide range of applications cable kink protection made of rubber. Along with the default sizes and designs, specific-purpose formats of economical batch sizes are also a possibility.