Fields of Application for Car Body Plugs
Car body plugs, which are usually flat, refer to rubber plugs which shut off holes on surfaces or in objects. The car body plug is externally pressed into the hole where it snaps into place. What is needed is a uniform opening into which the car body plug can be seamlessly fitted. These types of openings sometimes arise for production-related reasons or are intentionally produced to create additional scope for assembly and installation. A big benefit of car body plugs is their rapid removal when needed and use of the unblocked openings for mounting and fastening objects. This allows, for instance, openings in vehicle body work to be precision-sealed in an optically appealing way. Differently to what the name suggests, car body plugs can also be used to shut off holes on other surfaces, such as those of plastic, wood and metal. Here again, they ensure precision-sealing that is optically appealing. In addition, car body seals protect interiors and interior surfaces from ingressing liquids and thus from moisture damage. Also stopped is any ingressing of dust and dirt. That is why car body plugs have a prime role to play in the reversible sealing of holes and openings.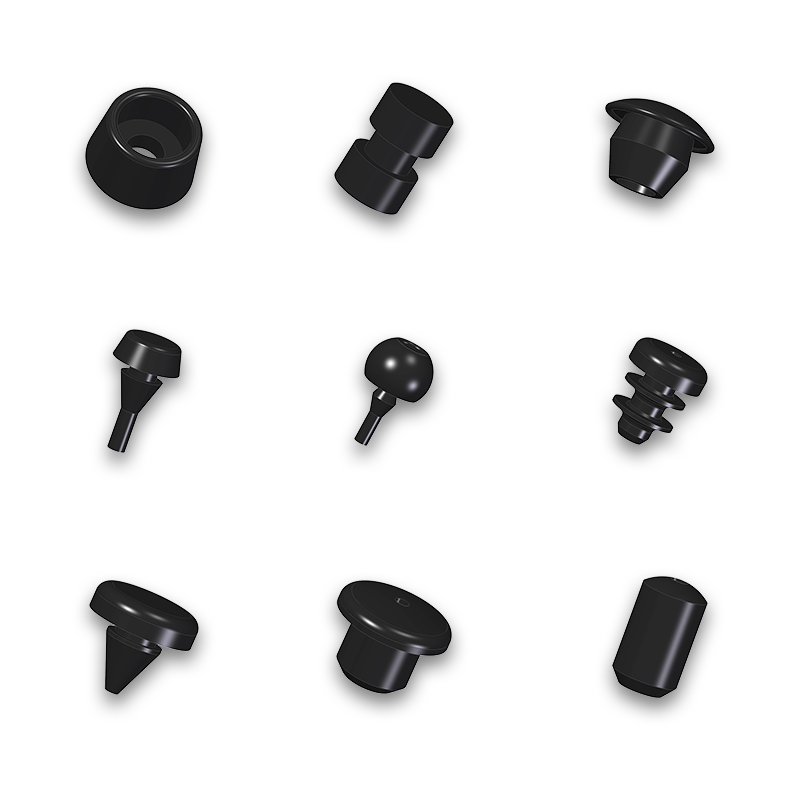 ---
Buffers, plugs and mounting feet
As with many incidental parts made of rubber, the reliability and durability of the car body plugs hinge on the quality of the basic materials and of processing. Even the slightest of variations in hardness and dimension can result in the car body plug failing to optimally fulfill its function. This could be followed by liquids, dirt and gases ingressing to cause considerable damage to entire components or machines. Car body plugs are an inherent part of the GUMMIVOGT range. As with all company products what also holds good here are the strictest of quality guidelines for all production phases. This ensures safety and dependability even with long-term assembly work carried out under challenging conditions. Thanks to their excellent processing, they can be effortlessly and absolutely reliably fitted into holes in car bodies or on other objects. No fitting tool is needed since the car body plugs can be easily pressed into the opening. Car body plugs are available in various sizes, plate thickness and colours for a multi-faceted range of application. GUMMIVOGT car body plugs are deployable in the automobile industry, aircraft construction, furniture-making and in a host of other environments.